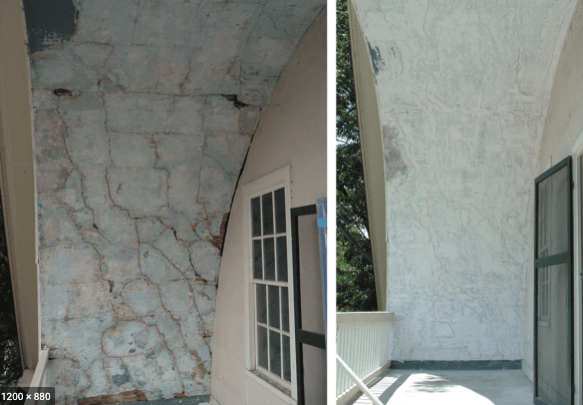 In today's economic climate, perhaps more than ever before, Building Restoration is a viable alternative to new construction. While each avenue provides a host of benefits, here at Woemmel Plastering, industry leaders in residential, commercial, and ornamental plastering and stucco repair, we strongly believe that restoring your historic residential or commercial property is the way to go.
Let us tell you why!
Benefits Of Restoring Your Historic Property
Historic restoration should hinge on three rules:
Respect the historic identity of the building
Protect and preserve the significant features and architectural elements
Repair deteriorated features, replacing only what is beyond repair.
If these three rules are adhered to during a restoration project, various benefits can be attained.
For example, according to most studies, over 20% of the energy-saving targets set by developed nations across the world will be met through only if effective measures are implemented in the building and equipment sector. For this reason, promoting the renovation and restoration of historic buildings over a teardown and reconstruction project has a seemingly unrelated advantage: reducing energy dependence and achieving energy-saving objectives, as well as significantly reducing polluting emissions which are the byproduct of large construction sites.
Another very important and highly significant advantage of building restoration is the ability to increase accessibility. There are minimum accessibility standards, set in place by modern law, which affects the quality of life of millions of citizens around the world, that are simply not met by a large number of historic buildings. Therefore, a restoration project is a perfect opportunity to introduce accessibility concepts to your building.
Many buildings of historical nature have fallen into disuse over the years and, thus, their market value has plummeted immensely. A restoration project led by experienced professionals, such as Woemmel Plastering, can easily bring a commercial or residential property to a more even footing within the marketplace.
Furthermore, the useful life of the building is prolonged, and its heritage value is increased even further.
Woemmel Plastering has been serving St. Louis homeowners for over 85 years. Having started with small residential repairs, Woemmel quickly learned that emphasizing attention to detail, freedom of customization, and, above all, respect for the authenticity of a building's historical identity, translates to happy and satisfied customers.
The St.Louis Zoo, Missouri Historical Society, Fox Theatre, Saint Louis University, Washington University, Federal Reserve Saint Louis, Discovery Elementary, Hillsboro Intermediate, and Villa Farotto's Restaurant, among many others, have seen the benefits of a professional restoration project first-hand.
Allow Woemmel Plastering to bring the expertise you need to your Residential, Commercial, and Ornamental restoration project today!