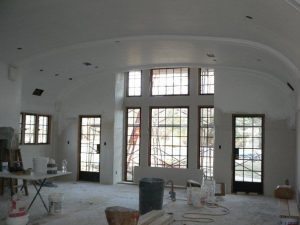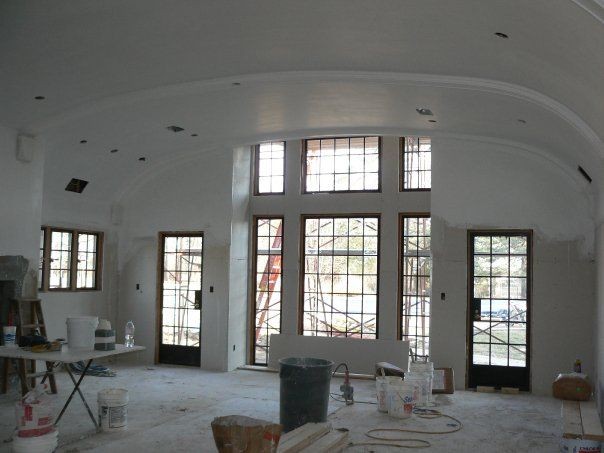 Once upon a time, there was a stucco house in St. Louis with rooms that needed a touch of perfection. The homeowners were eager to transform their ceilings. Enter Woemmel Plastering, the trusted name in the industry for top-quality plastering services. Our experienced plasterers specialize in applying stucco to walls and repairing any hole or damage. With their commitment to exceptional craftsmanship and customer satisfaction, our team of plasterers has become the go-to experts for stucco and plastering needs, including residential repairs and walls, in the area.
Whether it's reviving tired living rooms, transforming dining rooms, or tackling kitchen ceilings with tiles, Woemmel Plastering has the expertise and experience to handle any project with finesse. Their team of skilled professionals excels at delivering flawless results that exceed expectations every time. Whether it's a job for a company or a full review of rooms, they consistently go above and beyond.
With Woemmel Plastering, you can trust that your walls and plaster repair job work needs are in capable hands. Contact them today for a residential plastering proposal that will bring new life to your home's walls and room. Whether it's a small job or a major renovation, their business is here to provide top-notch plastering services.
Services Offered by Woemmel Plastering
At Woemmel Plastering, we take pride in offering comprehensive plastering services for ceilings, jobs, and work in rooms. Our services are tailored to meet our clients' needs. With our specialized expertise in both interior and exterior plaster applications, we are committed to delivering exceptional results that exceed expectations. Whether it's for a ceiling job or any other type of work, you can trust us to provide a full review.
Repairing, Restoring, and Renovating All Types of Plaster Surfaces
One of our primary areas of expertise lies in repairing, restoring, and renovating all types of plaster surfaces, including ceiling work. Whether it's a small job or a full review, we have the skills and experience to deliver high-quality results. Whether it's a small crack or significant damage, our skilled team of plasterers has the knowledge and experience to handle any work on the ceiling efficiently. Contact us now for a full review and description of our services. We understand the importance of maintaining the integrity and aesthetic appeal of your space while addressing any issues with your plaster ceiling. Whether it's a small repair job or a full review of your ceiling, we are here to work on it.
High-Quality Materials for Long-Lasting Results
We believe that using high-quality materials is essential for achieving long-lasting results in a job involving plaster walls. In this full review, we will provide a detailed description of our process. That's why we carefully select our materials from trusted suppliers known for their durability and reliability, ensuring that they meet the requirements stated in the job description. We conduct a full review of each supplier's offerings to guarantee the highest quality. Additionally, we value feedback from our customers and actively seek service provider responses to address any concerns or issues that may arise. By utilizing premium materials and expert craftsmanship, our team ensures that your plaster surfaces not only look fantastic but also withstand the test of time. Whether it's work on your ceiling or a full review of your job, we guarantee quality results.
Specialized Expertise in Water Damage Restoration
Water damage can wreak havoc on the ceiling, leading to unsightly stains, mold growth, and structural issues. If you're looking for a job to work on fixing these problems, check out our full review. At Woemmel Plastering, we specialize in water damage restoration services. Our team is dedicated to providing high-quality work and job satisfaction for our clients. Whether it's repairing a leaky ceiling or restoring a room after water damage, our experts are here to help. Contact us today for a detailed job description and to schedule an appointment. Our team is fully qualified to work on your ceiling and assess the extent of the damage accurately. We have the necessary skills and techniques to implement effective solutions and restore your plaster surfaces back to their original condition. Check out our full review for more information on our job.
Residential Repairs Tailored to Your Needs
Whether you require minor repairs or extensive renovations for your residential property, we've got you covered. Our team of experts is ready to handle any job or work you need, providing a full review of your property to determine the best course of action. From fixing a leaky faucet to completely remodeling your home, there's no job too big or small for us. With our expertise, we'll ensure that the end result exceeds your expectations and takes your property to new heights, all within your budget. Our residential repair services are designed to meet your unique job needs and work preferences. We provide a full review of the job description to ensure we deliver the best work possible. From repairing cracks in walls or ceilings to restoring ornate plaster details, our work includes a meticulous attention to detail throughout every step of the process. This full review of our work description ensures high-quality results.
Expertise in Plastering: A Closer Look at Woemmel's Skills
Highly skilled team trained in traditional and modern plastering techniques
Woemmel Plastering offers a full review of their ceiling work, providing a detailed description of the techniques used by their highly skilled professionals who have undergone extensive training in both traditional and modern plastering methods. With their expertise, they work diligently to handle a wide range of plastering projects with precision and finesse. They provide a full review and description of their work.
Proficient in creating smooth finishes, decorative moldings, and intricate designs
One of the key strengths of Woemmel Plastering is their work proficiency in creating smooth finishes, decorative moldings, and intricate designs. Their full review includes a description of their expertise in these areas. Whether you're looking for a full review of our team's work or a detailed description of our skill set, we have the knowledge and expertise to bring your vision to life and achieve a sleek and polished look or add unique architectural details to your walls.
Experienced in working with various types of plasters, including lime and gypsum-based
Different types of plasters require different approaches. Fortunately, the experts at Woemmel Plastering have extensive experience working with various types of plasters, including lime-based and gypsum-based options. We offer a comprehensive review of our plastering services to ensure customer satisfaction. This enables them to review and select the most suitable type of work for your project based on factors such as durability, texture, and aesthetic appeal.
Knowledgeable about proper surface preparation and application methods
To ensure flawless work, proper surface preparation is crucial for a successful review. The professionals at Woemmel Plastering understand the importance of their work and possess comprehensive knowledge about the necessary steps involved in preparing surfaces for plaster application. They also conduct thorough reviews to ensure quality results. From conducting a thorough work review to repairing cracks and ensuring proper adhesion, they employ effective techniques that lay the foundation for a long-lasting finish.
Attention to detail and commitment to professionalism
Attention to detail is paramount. Their team takes great pride in delivering a review of high-quality workmanship that exceeds expectations. With their commitment to professional work throughout every stage of the project – from initial assessment through to completion – you can trust that your plastering needs will be handled with care and precision. Their thorough review ensures a high-quality outcome.
Customer Testimonials: What Clients Say About Woemmel Plastering
Satisfied Customers Praise the Professionalism and Attention to Detail Provided by Woemmel Plastering
Clients who have hired Woemmel Plastering for their plastering work have only positive things to say about their experience with the company. They highly recommend Woemmel Plastering and give it great reviews. Many customers review the work of the team and praise their professionalism and attention to detail. From start to finish, clients appreciate the quality work and thorough review process that the team at Woemmel Plastering goes above and beyond to ensure customer satisfaction.
Clients Appreciate the Promptness and Efficiency of Their Service Delivery
One common theme in customer reviews is the promptness and efficiency of work provided by Woemmel Plastering. Customers value businesses that respect their time, and Woemmel Plastering certainly delivers on this front with their efficient work and positive customer reviews. The team is known for their efficient work, consistently delivering projects on time and within the agreed-upon timeframe. They also prioritize minimizing disruptions during the process, ensuring a smooth review.
Positive Reviews Highlight the Exceptional Quality of Workmanship Displayed by the Team
Quality work is key, and that's exactly what clients get when they choose Woemmel Plastering. Our team is dedicated to providing top-notch work and delivering exceptional results for every project. We take pride in our attention to detail and commitment to customer satisfaction. With our expertise and experience, you can trust us to deliver a review-worthy finished product. Positive reviews consistently highlight the exceptional quality of workmanship displayed by the team. From the impeccable work and meticulous attention to detail, customers are thoroughly impressed with the final results of their projects. The positive review of our work is a testament to our commitment to delivering exceptional quality.
Customers Value Clear Communication Throughout Each Project Undertaken
Effective communication between a contractor and client is crucial for a successful work project outcome. Thankfully, customers who have worked with Woemmel Plastering commend them for their clear communication throughout each project undertaken. The team works diligently to understand clients' work needs, provides regular work updates on progress, and promptly addresses any work concerns.
Woemmel Plastering has built a strong reputation among its clientele through its commitment to professionalism, attention to detail, prompt service delivery, exceptional workmanship, and clear communication throughout every project undertaken. These positive testimonials from satisfied customers serve as a testament to the quality of their work and the level of customer satisfaction they consistently achieve.
Rise to the Top: How Woemmel Plastering Became a Premier Company
Small Beginnings, Big Success
Woemmel Plastering started as a humble family-owned work business in St. Louis. What began as a small work venture has now grown into one of the leading plastering companies in the area. Through their dedication and hard work, they have earned a stellar reputation for their exceptional craftsmanship and commitment to customer satisfaction.
Exceeding Expectations, Every Time
One of the key factors behind Woemmel Plastering's success is their consistent ability to exceed client expectations through their exceptional work. They go above and beyond to deliver superior workmanship that leaves customers impressed and satisfied. Whether it's plaster work, repairs, installation, or restoration projects, they consistently deliver top-notch results.
Putting Customers First
Woemmel Plastering firmly believes that customer satisfaction is paramount. They prioritize work by building strong relationships with their clients, actively listening to their needs, and providing personalized solutions. This customer-centric approach sets them apart from other companies in the industry.
Continuous Improvement for Excellence
To stay at the top of their game, Woemmel Plastering is committed to continuous improvement efforts. They invest in ongoing training and development programs for their team members to ensure they stay up-to-date with the latest techniques and industry trends. By constantly honing their skills, they are able to maintain high standards of quality craftsmanship.
Craftsmanship That Sets Them Apart
What distinguishes Woemmel Plastering from its competitors is its unwavering dedication to quality craftsmanship. Their skilled artisans take pride in every project they undertake, paying attention to even the smallest details. This commitment shines through in the flawless finishes and impeccable results they consistently deliver.
Meet the Team Behind Woemmel Plastering's Success
At Woemmel Plastering, we believe that a company is only as good as its team. That's why we're proud to introduce you to our passionate and skilled group of plastering professionals who have been instrumental in our success.
Passionate and Experienced Professionals
Our team consists of individuals who are not just highly skilled but also deeply passionate about their craft. With years of industry experience under their belts, they bring a wealth of knowledge and expertise to every project they undertake. From residential properties to commercial buildings, our team has tackled a wide range of plastering jobs with precision and finesse.
Exceptional Results and Reputation
Each member of our team is trained rigorously to deliver exceptional results that uphold the reputation of our company. We understand that plastering is not just about applying materials to walls; it's an art form that requires attention to detail and a keen eye for aesthetics. Our team takes pride in their workmanship, ensuring that every project is completed with the highest level of quality.
Commitment to Professional Development
To stay at the forefront of the industry, our team is dedicated to ongoing professional development. They actively seek out opportunities to learn new techniques and stay updated with the latest trends in plastering. By continuously expanding their skill set, they can provide innovative solutions and deliver outstanding outcomes for our clients.
The Power of Teamwork
Teamwork lies at the heart of everything we do at Woemmel Plastering. Our team understands that collaboration is key in achieving great results. They work seamlessly together, combining their individual strengths and expertise to tackle even the most challenging projects. This collaborative approach ensures efficiency, effectiveness, and ultimately leads to customer satisfaction.
Woemmel Plastering – Your Trusted Partner in St. Louis
In conclusion, if you're looking for top-quality plastering services in St. Louis, look no further than Woemmel Plastering. With our expertise and dedication to customer satisfaction, we have established ourselves as a premier company in the industry. Our team of skilled professionals takes pride in their work and ensures that every project is completed to the highest standards.
So why choose Woemmel Plastering? We offer a wide range of services to meet all your plastering needs, from repairs and restoration to new installations. Our years of experience have honed our skills, making us experts in the art of plastering. But don't just take our word for it – our satisfied customers speak for themselves through their glowing testimonials.
Ready to transform your space with beautiful and durable plasterwork? Contact us today for a consultation and let us show you why Woemmel Plastering is the trusted partner you need for all your plastering projects.
FAQs
How long has Woemmel Plastering been in business?
Woemmel Plastering has been serving the St. Louis area for over 30 years. Our extensive experience allows us to deliver exceptional results on every project we undertake.
What types of plastering services does Woemmel offer?
We provide a comprehensive range of plastering services, including traditional lime-based plasters, veneer finishes, ornamental molding installation, repair and restoration work, as well as new construction projects.
Can I see examples of your previous work?
Absolutely! We take great pride in our craftsmanship and have a portfolio showcasing some of our completed projects. You can view these examples on our website or request them during your consultation.
Are you licensed and insured?
Yes, we are fully licensed and insured to provide peace of mind to our clients. Our team adheres to all industry standards and safety protocols, ensuring a professional and secure work environment.
How long does a typical plastering project take?
The duration of a project depends on various factors, such as the size and complexity of the job. During your consultation, we will provide you with an estimated timeline based on your specific requirements.
Do you offer free estimates?
Yes, we offer free estimates for all our prospective clients. Simply reach out to us to schedule an appointment, and our team will assess your needs and provide you with a detailed quote.
What sets Woemmel Plastering apart from other plastering companies in St. Louis?
At Woemmel Plastering, we believe in delivering exceptional craftsmanship combined with outstanding customer service. Our attention to detail, skilled team members, and commitment to client satisfaction set us apart from the competition.
Remember, if you have any additional questions or would like more information about our services, don't hesitate to reach out to us. We're here to help!